Shipping & Returns
HOLIDAYS
If you're ordering around a holiday and concerned about when it will arrive, please call us at (888) 389-3569 for a more accurate shipping time frame.
SHIPPING POLICY
Operating 9:00am - 5:00pm on standard business days (excluding holidays and weekends), most orders will typically require 2-3 business days before shipping out of our facility. We encourage all of our customers to look at the full description of the product(s) being purchased, as they show a more definitive time before shipping out. Please be aware that if ordering an item that takes 2-3 business days alongside another that takes 4-5, shipping will supersede to the later shipping time.
Vw Accessories Shop reserves the right to adjust shipping charges for large or overweight items upon the acceptance of the customer.

Shipping is only accessible to the 48 contiguous states.

During checkout, you will be shown an estimated "Time in Transit". This is better stated as the time it takes after shipment to arrive at your destination. The "Time in Transit" + "Ships In" (located below every product picture, full description pages) is the actual estimated time for you to receive your purchase.
ESTIMATED "IN TRANSIT" TIMES ONCE SHIPPED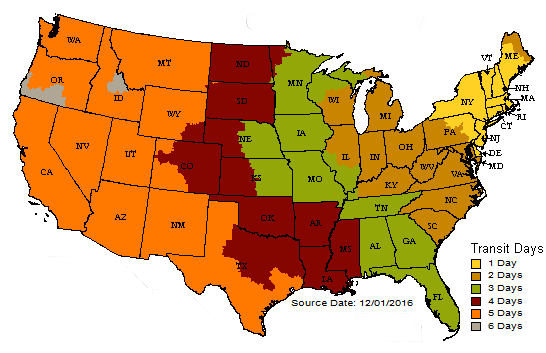 OBSERVED HOLIDAYS
Please note that we will be closed on the following holidays:
New Year's Day
Memorial Day
Independence Day
Labor Day
Thanksgiving
Christmas
Any orders placed around these holidays may experience a delay in processing and/or shipment.
SHIPPING FORMULA
If "Ships In: Usually 2-3 Business Days" + "Time in Transit: 4 days", expected delivery will be 6 to 7 business days.

Please Be Aware: There are uncontrollable instances where the above formula is not valid. Examples include weather, inventory depleted, broken item found during quality check and more. Shipping providers may be changed at seller discretion, unless customer otherwise makes a note within the checkout process.


SIGNATURE UPON DELIVERY
Orders valued at $100 or more require a signature. Customers can arrange a proper time of day with their tracking # for the delivery to be made, or choose to pick it up at their local shipping facility. Vw Accessories Shop reserves the right to require signatures on any order they deem necessary at their own discretion.
RETURN POLICY
Vw Accessories Shop operates under strict return policies. All orders placed on our website imply (checkmark field during checkout) full understanding and 100% agreement by consumer to purchase under all of our shipping, return, and privacy policies. We insist all customers read product details as a Vehicle Identification Number (VIN) or other necessary information may be required during checkout. This will help prevent shopping errors.
STANDARD POLICY
In order to qualify for a return, customers are obligated to contact Vw Accessories Shop within 5 business days of delivery. Additionally, customers are insisted to follow these instructions in order to qualify for proper return authorization.
1. Contact Vw Accessories Shop including Name, Phone #, Order #, Reason for Return.
o "Contact Us" Form or
o Dial 888.389.3569
- If sales associate not available, please speak clearly when leaving message.
2. If return accepted, please wait for an RA # to be provided to you via email or phone call.
3. Refunds will provided after return is received and inspected.
o All returns will incur a 15% restocking fee.
o Shipping and handling costs are not refundable.
UNAUTHORIZED RETURNS
If a customer returns their purchase without following the proper steps shown in our "Standard Policy", a strict 30% restocking fee will be incurred. If we receive a damaged product, Vw Accessories Shop reserves the right to operate under own discretion.

If a customer purchases a product that says, for example, it will fit model years 2012, 2013, 2014 or 2015, however customer owns a 2011 model year, Vw Accessories Shop will not issue an RA # for customer error on purchase. This is even enforced if a VIN # is included during checkout because every product shows the years that it will fit in their description.

UNACCEPTABLE RETURNS
Please be aware that the following items are nonreturnable. Any product that is considered electronic and contains wires will not be accepted. Any item that was attempted as a self-install and broken during install will not be accepted. Any item that was previously installed will not be accepted.

Any return on products that require a Vehicle Identification Number (VIN), but a Vehicle Identification Number (VIN) was not provided during checkout will incur a full 30% restocking. Orders that were placed by customer assuming fitment on their vehicle when the product description includes details of any restrictions on model(s) will incur the full 30% restocking fee. It is the buyer's duty to shop responsibly and read all product details that are included in the Full Product Descriptions. We have made shopping simple by including a header in bold text below the image of every full product detail Webpage that will say "Restrictions Apply" or "Fitment Notes", for example.

Vw Accessories Shop reserves the right to refuse any return and refuse refund for any purchase made by customers that did not read product details about fitment. This is a rare occasion, but may happen on products that are considered high value. High value, under Vw Accessories Shop terms, is considered a product's value of $200 or more.


INTERNATIONAL RETURNS
No returns will be accepted by any order that has been shipped outside of the contiguous United States. This includes any purchases we ship to any customer within the contiguous United States and is later shipped by customer or third party out of the contiguous United States.

All of our products we offer are products that fit all Volkswagen Motor America models. We cannot guarantee any fitment on products that are not considered a Volkswagen Motor America vehicle.